Sebamed Baby Cleansing Bar
Sebamed
Baby cleansing bar. Contains emollients that protect against dryness during cleansing
Recommended dosage/application : For daily use as a cleansing bar
Last updated on October 9, 2022 1:53 am
Product Description
Triticum vulgare starch, disodium lauryl sulfosuccinate, stearic acid, palmitic acid, cetearyl alcohol, aqua, talc, lactic acid, sodium lauroyl sarcosinate, cocamidopropyl betaine, panthenol, insulin, lecithin, glycerine, magnesium aspartate, alanine, lysine, leucine, tartaric acid, parfum, ci 77891.
From the Manufacturer
Mild and Gentle Soap-free Bar
The best choice for your baby's first bath, Sebamed baby cleansing bar is mild and gentle soap-free bar for your baby's skin. Containing sodium cocoyl glutamate and amino acids, this Sebamed cleansing bar keeps your baby's skin soft and healthy. Seabed cleansing bar but does not strip the moisture off your baby's skin. It also contains the natural skin-related sugar insulin and Panthenol to moisturise and regenerate your baby's skin. Vitamin E, which helps in soothing the skin, also contributes to keeping your child's skin supple. This soap-free bar will provide complete cleansing without drying out, thanks to its pH value of 5.5.
Nourishment and Take care of Tender Baby Skin
This baby cleansing bar is 100% alkali free and helps in stabilising the moisture balance of the skin. It may be used continuously for a bath or to wash your baby's face and hands. Even though your baby is suffering from some skin disease, you'll be able to use this cleansing bar Sebamed without any worry as it has skin tolerance property. The Sebamed baby cleansing bar 100gm gives complete pore-deep cleansing, which helps in combating pimples, blackheads and skin impurities. All you wish to have to do is apply it on your baby's skin, lather it up and rinse to leave your baby feeling refreshed and relaxed.
Brand: Sebamed
Ideal for: Pimples, blackheads and skin impurities
Age: Newborn and up
Contains: Moisturisers and amino acids
Good skin tolerance even in skin disease
Content: 100 g
Sebamed
Baby cleansing bar. Contains emollients that offer protection to against dryness all over cleansing
Really useful dosage/application : For daily use as a cleansing bar
Direction for Use: Apply Sebamed Baby Cleansing Soap gently on baby's wet face and body. Rinse thoroughly with lukewarm water ; Caution: Keep out of reach of children. Avoid direct sunlight
Videos & Reviews
Baby Sebamed baby cleansing bar Soap Baby full review after use
Hello Friends and Family I Hope you all are well Today we will try to know about Sebamed Soap On this channel you will found informative video with ...
Sebamed Baby Cleansing Bar
Sebamed is the only brand which ensures that your skin remains the way it is meant to be. Only Sebamed products have a pH value of 5.5 and they work without ...
Best Deals
Best deals across sites:
Please note some websites like Firstcry, PayTM Mall have additional discount coupons which can be applied for even better prices.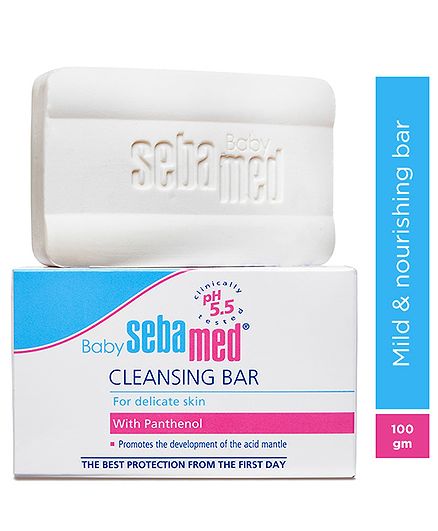 Rs. 285
Rs. 1,300
in stock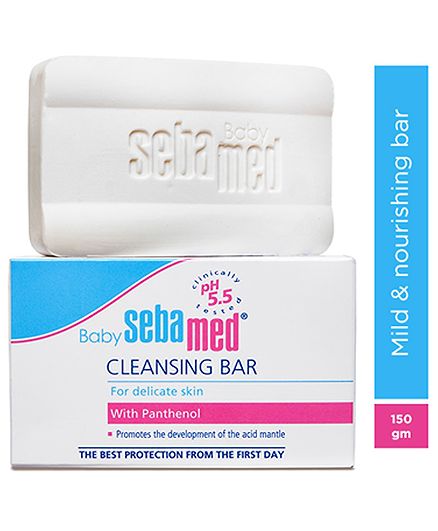 Rs. 798
Rs. 1,140
in stock
Rs. 875
Rs. 1,140
in stock
Rs. 990
Rs. 1,140
in stock
-
Price trend